The documents feature allows you to upload documents such as test reports, associate them with sites and machines and have users sign off on them. To open the documents page click the Documents link on the main toolbar. The list of any previously uploaded documents will appear.

You may filter the documents by site, machine and document type.
You may edit the document data by clicking on the information icon for the document.
You may download the document by clicking the download icon for the document.
You may add sign-offs by clicking the sign-off icon for the document.
To add a new document click the New Document button. The create document page will open.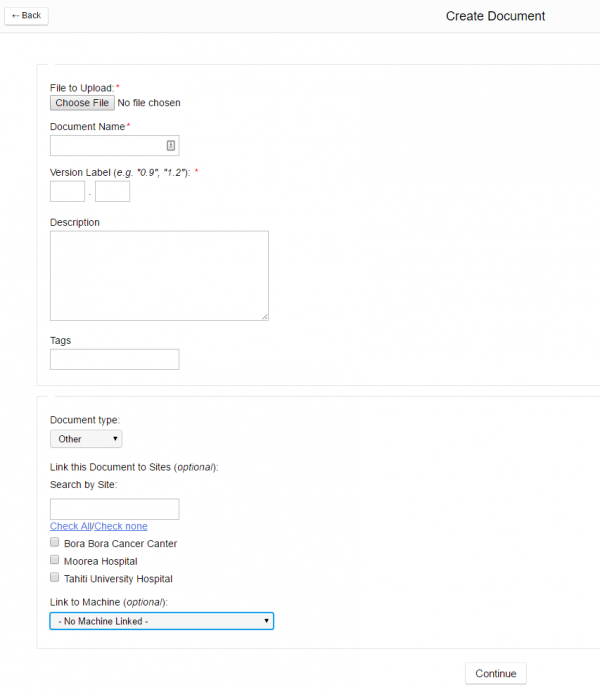 Upload the file and enter the information.
Document Name: This will be the document name displayed in the document list.
Version Label: The version label is required and must be numeric.
Description (Optional): Descriptive information for the document.
Tags (Optional): Tags that can be used for searching for documents.
Document Type: Designates the document type as a Policy, Calibration, Procedure or Other.
Optionally link the document to sites and machines
Note that once you click Continue the document will be uploaded immediately.
You may optionally require sign-offs on the document. After completing the document information the sign-off page will display.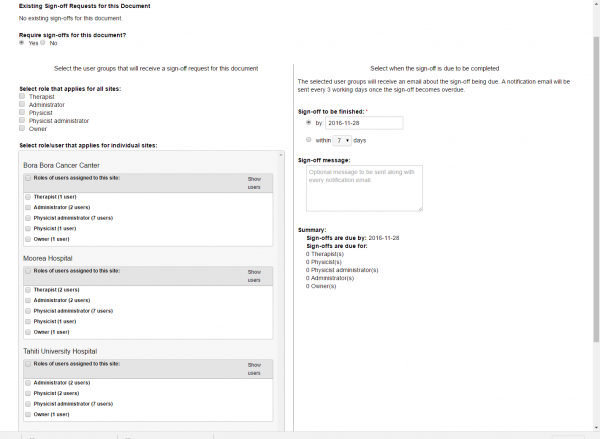 You may designate all users of particular roles to sign-off or particular individuals.
You can set a particular due date or a set number of days in the future.
You may set an optional message on the email requesting sign-offs.
Users on the sign-off list will receive e-mails requesting that they sign off. A sign-off icon will appear next to the document in the document list. To sign-off click the icon and enter the username and password.
Users with overdue sign-offs will receive reminder emails every three days.