Topics covered in this article include:
In this section, the energies used clinically will be set up. When developing QA templates these energies will be matched with the machines established as part of developing a complete QA regimen.
To open the Manage Energies page click on the Energies link.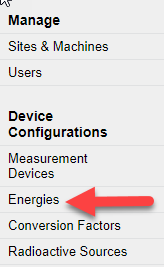 Adding a New Energy

Navigate to the Manage Energies page.
Click on the Add Machine Energy Button. The Add Machine Energy form will appear.

Enter the information for the energy to be added. All fields are required. The Energy Value must be a numeric value.
Once you have added all the information click the Add Energy button.
If all the information is entered and is valid then a confirmation message will appear.

If an error occurs check that the numerical value entered is a legitimate numerical value and that all the required fields are entered.
---
Deactivating an Energy

If an energy is no longer needed or its values are incorrect it can be deactivated.
Navigate to the Manage Energies page.
Click on the Deactivate Energies Button. The Deactivate Machine Energies form will appear.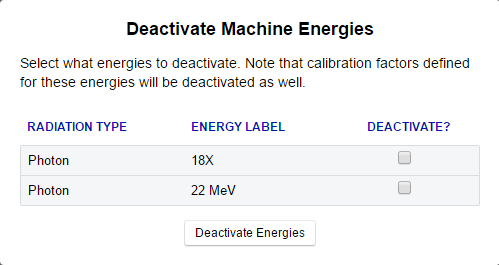 Check the energies that you wish to deactivate and then click Deactivate Energies. Note that calibration factors defined for these energies will be deactivated as well.
If the deactivation is successful a confirmation dialog will appear towards the lower right of the screen.

If you receive a red notification that your energy was unable to be added/updated, please try again, and if the problem persists contact customer support.
Duplicate Energies
It is necessary to add globally defined energies from time to time as they become common on Linacs or to handle custom mappings on daily QA devices. The following energies have always been globally defined energies: 6X, 6X FFF, 6X SRS, 6e, 6e HDTSE, 9e, 9e HDTSE, 12e, 16e, and 20e.
The following energies: 10X, 18X, 15e, and 18e were added to the globally defined energies. Customers with existing 10X, 18X, 15e, or 18e customer definable energies now see those energy labels appended with " (duplicate)". Those pre-existing energies with the duplicate designation can be left as they are or schedules can be remapped to the globally defined energies.