Catphan® CBCT QA Procedure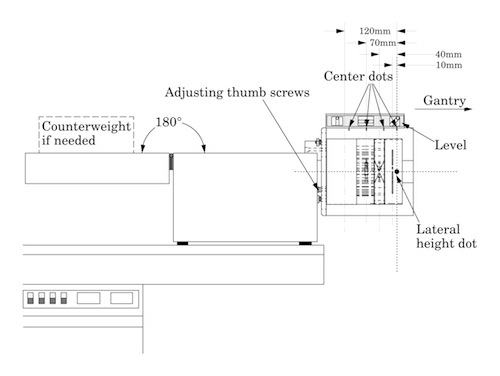 Place the phantom case on the gantry end of the table with the box hinges away from the gantry. It is best to place the box directly on the table and not on the table pads. Open the box, rotating the lid back 180°.
Remove the phantom from the box and hang the Catphan® from the gantry end of the box. Make sure the box is stable with the weight of the phantom and is adequately counterweighted to prevent tipping.
Use the lasers (or linac crosshairs) to make sure the Catphan® is centered on the first lateral height and center dots that are proximal to the gantry.
Use the level and adjusting thumb screws to level the Catphan®. Then re-check the Catphan® centering on the first lateral height dot and center dot.
Move the Catphan® in towards the gantry so that it is aligned with the 3rd alignment dots from the front of the phantom.
Perform CBCT scan.