Before using the radioactive source management features it is necessary to establish:
the conversion factors between Curies (Ci) and Gigabecquerels (GBq).
the conversion factor between Curies (Ci) and source strength (U) for the isotopes to be used in the system.
the isotope half-life in days for isotopes to be used in the system.
the default activity units to be used for the account (Ci or GBq).
If unit conversions have not been established for an account clicking on the Radioactive Sources link on the Manage Service page will display the Setup (unit settings) page. Subsequently, unit settings can be adjusted by clicking on the Unit Settings button in the Manage Radioactive Sources page.
Conversion factors for source strength and isotope half-lives need only be entered for isotopes you intend to use with the system. Currently, isotopes Ir-192 and Co-60 are supported.
Select whether you wish to display activity in Curies or Gigabecquerels by choosing from the Default Activity Units drop-down menu.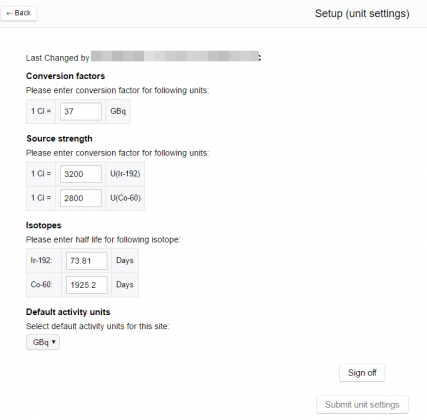 After entering conversion factors and settings click the Sign off button and enter the username and password to authorize the changes.
After signing the changes click the Submit Unit Settings button to save the changes.